Product Description
Reflective wide-angle Fresnel lens Product manual use of reflective Fresnel wide-angle lens; reflection Fresnel wide-angle lens is widely used in major banks ATM (automated teller machine), the bank window, security and other fields. With light weight, small size, wide viewing area, and good impact resistance.
Features:
1,the shape of the plane mirror, the effect of the convex mirror, spherical aberration, clear imaging, small deformation.
2,thin structure installation convenience, the surface do to strengthen the coating, to increase the hardness, anti-wind and sun, UV resistant, anti-aging resistance, good scratch resistance; aluminum surface is responsible for the protective paint, waterproof, moisture-proof applicable in various environments.
3,the back of the wide-angle lens attached to the double sided tape, easy to use-and-stick ready to use.Installation method; a wide-angle lens will be posted on the plane did not bump. Prior to wipe away dirt, moisture, oil, dried.
4,and then peeled off the release paper of the wide-angle lens behind, attached to the For Post Office.Firmly and evenly press the surface of the wide-angle lens, make sure the wide-angle lens has been affixed to live, it has been posted above.
5,you can use a mild detergent to clean it, can be wiped away with a clean cotton cloth.
Reflective Wide-angle Fresnel lens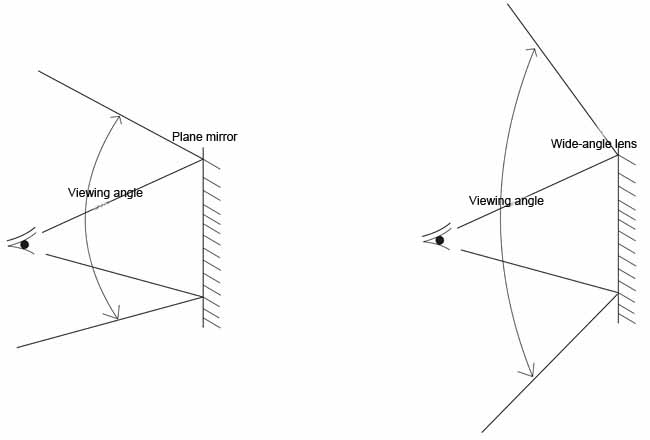 Part No.
HX-FK6040
Shape Properties
Square
DIM L x W (mm)
60 x 40
Thickness (mm)
2.0
Focal Length (mm)
350
Groove Pitch (mm)
0.3
Materials
Optical Grade PMMA
2D Views
Part No.
HX-FK7447
Shape Properties
Square
DIM L x W (mm)
74 x 47
Thickness (mm)
2.0
Focal Length (mm)
350
Groove Pitch (mm)
0.3
Materials
Optical Grade PMMA
2D Views
Part No.
HX-FK8555
Shape Properties
Square
DIM L x W (mm)
85(±0.3) x 55(±0.3)
Thickness (mm)
1.5±0.1
Focal Length (mm)
350
Groove Pitch (mm)
0.3
Materials
Optical Grade PMMA
2D Views
Next£º
Oval Spot mini lens for Federal5050 LED(HX-C13F)
Previous£º
Domed PIR Fresnel Lens|110deg Induction Angle